Watch this video, then take the tour.
Download (right click save as): High Res Video, Audio
---
We'd Like To Take You On A 3 Minute Visual Tour.
Using colorful screenshots below, we'd like to take you on a brisk walk through WorshipTraining, to show you just how we can serve you and your local church..

How Can WorshipTraining Serve My Church?
You carry a responsibility; we serve you with the tools to fulfill it.
Every worship leader knows that time, energy and money are precious in local church ministry. Every worship leader also carries a sense of responsibility to train their team in the how, what and why of worship ministry leadership in a congregation.
We save worship leaders time, energy and money.
WorshipTraining was designed by worship leaders, for worship leaders – specifically to save you time, energy and resources – while also providing vital, world class training to your team. For less than the cost of sending one person to one conference this year… your entire team gets trained. No one gets left behind..
We Train Your Worship Team – At Your Direction.
Under your creative direction, we do the work online and via download.
Your are the designer – we do the work. In other words, we bring the training to you. You have the heart to train your worship team in everything from attitudes to theology – yet time, energy and money are scarce. So, we provide a 3 Year Plan (see below), and you guide the process for your team.
We also provide you with the media curriculum to train your team.
Just want great curriculum to do training together? We put over 30 Courses and Retreats at your fingertips, as well as many of today's most helpful worship training DVDs – all online with our All Access Pass.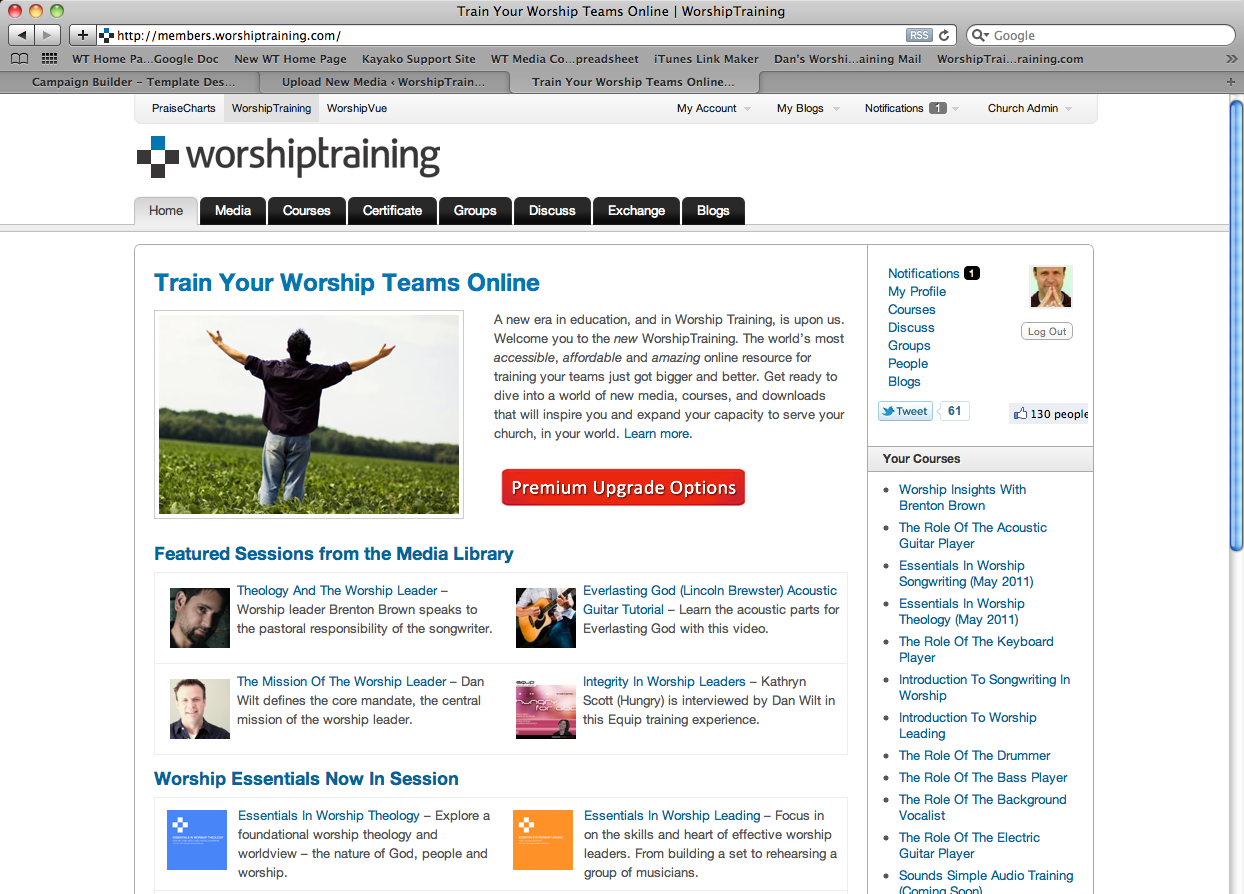 We take the grunt work out of worship training by providing it for your team, and making you the designer. Your worship team(s) will grow in the heart values, ministry skills, and musical skills – and you can spend less time looking for training content and more time focusing on your worship set for Sunday morning..
Plan Training Events In Minutes – Not Hours.
Over 30 media-powered Courses and Retreats are at your fingertips.
Need a quick resource for a live training course, retreat or training night? Access training content with a click, and download media files and discussion questions right onto your computer.  Use training material that is designed, ready and easy to use, to create your own events. You'll never be at a loss for a live event training resource again
Use Curriculum, or let us do the work online.
You can design and lead training yourself. Or, your team members can join live, moderated "short and sweet" seminar length courses that will keep them growing weekly – while everyone keeps leading worship.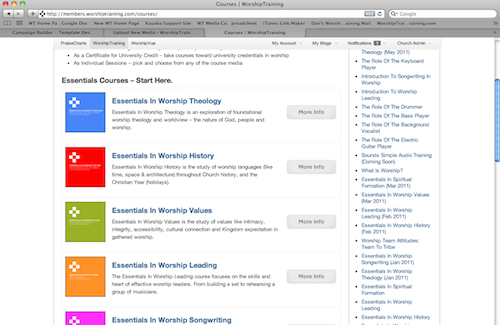 We think like worship leaders – so you and your team can take the same Course, but in your choice of many formats that work for you:
As a Scheduled Online Worship Class
As a Self-Directed Online Worship Class
As a Downloadable Worship Retreat
As a Downloadable Media Training Course
As a Downloadable eBook Curriculum
As part of a Three Year Training Plan
As part of a Certificate for University Credit
As Individual Sessions (personal enrichment)

.

Major Publishers + Training DVDs – Now Online.
Today's most effective training DVDs are now online for your team.
DVDs for worship training are now online in our expansive Media Library. We've even built them into Courses and Retreats for you to run in your church. Thousands of videos, audios, eBooks and articles are easy to discover.
High quality DVDs from worship leaders like Brian Doerksen, Jacob Moon, N. T. Wright, and Tim Hughes are now available online. Producers such as Integrity, Vineyard Music and other producers provide training media. With WorshipTraining, answers for almost any situation related to worship are only a click away.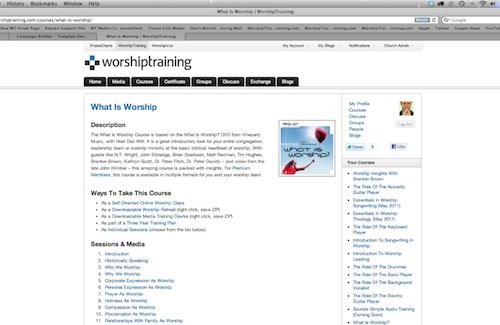 Online Classrooms and Global Connection.
You and your team can download curriculum, or learn online together.
Over 30 Courses can be run live in your local church, studied online with your own team, or simply done privately at each person's own pace. Or, if you want, you and your team can join in with thousands of others learning in live, moderated Courses.
Our foundation and world respected Essentials In Worship Courses led by Dan Wilt can be done live, 3 times per year, with worship peers around the world.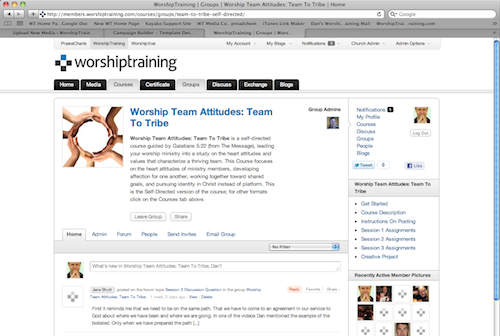 The World's Largest Worship Media Archive.
Our Online Media Library brings over 100 trainers right into your church.
With hundreds of trainers on video, audio and in articles, we offer you training tools on a wide array of worship topics. Our contemporary emphasis, with deep roots in the ancient worship story of the church, guide the content we provide.
You find resources from worship leaders, songwriters, academics, artists, musicians and more. Over 1200+ media items (and growing) are just a click away. Your team members can freely access all our Media for personal growth via our All Access Pass.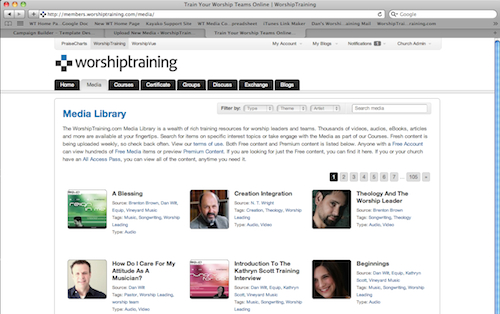 Media In High Res, Low Res and Audio Formats.
Want To Project On A Big Screen? Put Audio On Your Mobile Phone?
Yep; we thought of that, too. When you access a Media item, you may want to project it on a big screen, view it on your laptop, or download an audio for your mobile device, iPod or iPhone. Download the Media in High Res for the big screen. Or, you may hate downloading and just want view the Media in Low Res on your laptop.
We provide all media in multiple formats. Are you noticing that we've worked hard to think of almost everything? That's because we're training our teams, too, and want it to be amazing!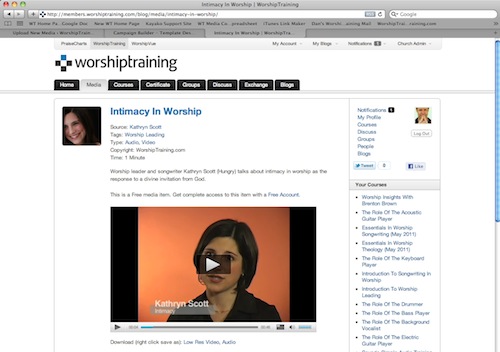 Tutorials In Guitar, Bass, Keys, Drums and More.
Your Youth Drummer Is Learning To Play With Lincoln Brewster.
In CCLI's survey of thousands of local churches, the cry for practical musical skills training rose above them all. Now, you and your musicians can "take tutorial lessons" online.
With Integrity's Worship Tools, Jacob Moon's Guitar series, and many other professional musician resources, your musicians can sharpen their skills with our Tutorials section. Our Tutorials section is growing monthly, so if there is no Tutorial for a particular instrument, you may want to check back in the next month. Or, request it, and we'll see what we can do.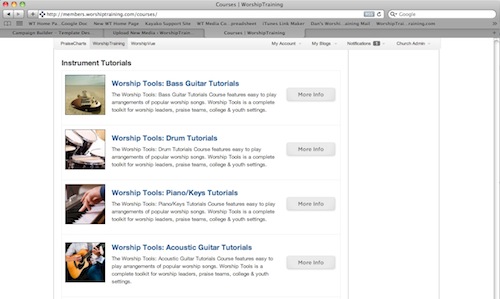 Train Your Musicians At Home or Together.
Our Tutorials get your musicians practicing with current songs.
Our Tutorials are designed for personal development at home, and many are based on well-known worship songs. These are perfect for private online lessons, or for another teacher to build musical training around.
Have your band learn the parts of songs from Kathryn Scott, Vicky Beeching, Kari Jobe, Lincoln Brewster, Brian Doerksen and many others. Even build a youth musician training Course out of the Tutorials, or use our 3 Year Training Plan to guide a young musician along with the All Access Pass.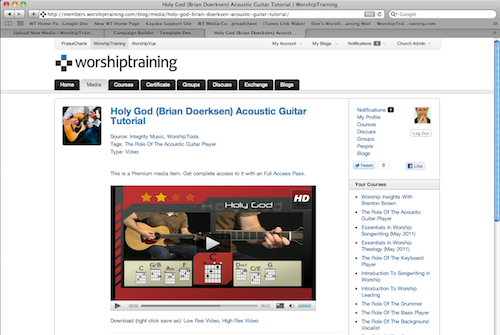 A Three Year Training Plan For Your Ministry.
We Hand You A 3 Year Plan – You Just Plug and Play.
We put a turn-key, pre-designed curriculum for training all members of your worship ministry into your hands and theirs – The 3 Year Training Plan.
Each team member 1) follows along, and 2) does various courses spread out over the year as they have time. They begin to think about their attitudes, worship values, how to serve each other and the congregation, how to serve their worship leaders and pastors, how to be difficult to offend, their own spiritual formation and discipleship, and much more.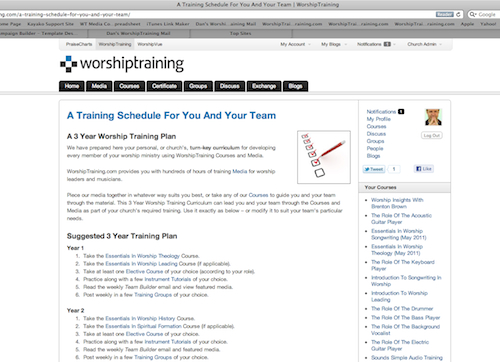 Courses about worship leading, values, songwriting, the nature of God, worship holidays, spiritual formation, discipleship and more provide a grounded foundation for your worship teams. Then, team members choose from a wide variety of elective courses to dig into specific, practical topics related to worship. Pick and choose, simply implement our 3 Year Training Plan, or use it as a template to design your own program.
You and your church get a complete Worship Training Program for every member of your ministry – for less than the cost of sending one person to one conference – with the All Access Pass.
Live Webinars, Groups and Creative Sharing.
Your team will interact with thousands of peers internationally.
Learn about worship with thousands of worship leaders and teams from around the world. Network with others who share your passion. Ask questions. Give input. Share ideas. Share songs. Discover songs. Start a blog.
Live webinars throughout the year build you, and are always recorded for our Library. Many of our groups even have professional musicians and techs in them – helping your bass player taking some rhythm counsel from a pro bass player with a servant's heart. Our Creative Exchange enables all our Members to upload and download "creative projects" – i.e. songs, powerpoints, and movies.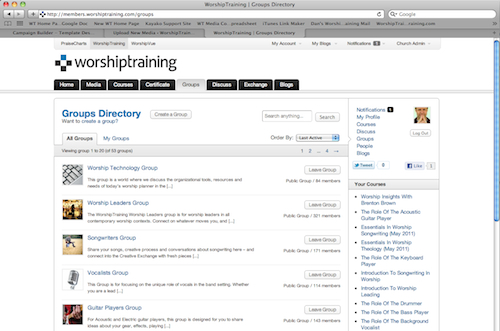 .
Get A University Certificate In Worship – Online.
Is It Time For You To Get Some Online University Credentials?
Want to take a step further and get some credentials through online study, in your home and at your pace? Take online Essentials Courses (expanded) to work toward university credit, gain worship credentials or go on to further study. Our ancient-future, postmodern aware, creativity inspiring approach is regarded by many as of the most relevant and vital online training for worship leaders available.
Finish with a Certificate In Worship Leadership Studies in your hands, and a fresh perspective on being an effective worship leader in the 21st century. With our Certificate Program, you'll get in-depth training, all online and from the comfort of your home. You'll also getting some personal feedback and get to join in our quarterly University Calls with Instructor Dan Wilt, M.Min.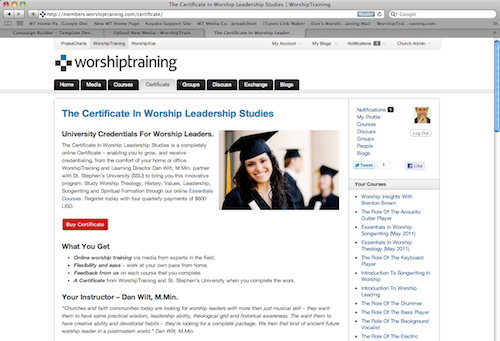 Want to train your entire church in worship?
You Can. Use Courses and Media to train your entire church in worship.
While our primary focus is on worship leaders and their teams, many pastors want to make worship a priority in their teaching – but they're not sure where to start.
We take away the guess work, and give you what you need to get started right away. Using select Media materials that catch your eye at WorshipTraining, you can get your entire church growing in worship. Plan a series, start small group studies focused on worship. Ready, go.
Courses in "What Is Worship," "Worship Values," "Spiritual Formation" and other important topics work for your entire congregation. Much of our Media can also be used as a Worship Teaching Series, or as sermon "teaching vignettes" from respected voices. Whatever the case, the All Access Pass for churches allows unlimited people from your local church to grow as worshippers.
Hear What Others Have To Say.
Some of today's most vital worship voices are fans of WorshipTraining.
We've been working for many years to develop this resource – any leading worship trainers see the goldmine, and are both cheering us on and joining in.
"WorshipTraining is an amazing gift for this season in history for all those called to worship. I love Dan and his team's approach – drawing from ancient and life-giving wells of devotion to inspire the modern worship leader and songwriter."
Brian Doerksen (Come, Now Is The Time To Worship)
"It's exciting to see… WorshipTraining – a fantastic and fresh way to train, resource, encourage and inspire worship leaders, songwriters and creatives all over the world. Definitely worth getting involved in."
Tim Hughes (Here I Am To Worship)
"There is a global call to worship development that is happening here… and I want to encourage you to join with this community. I'm going to make a sound in it – let's join hands as worshipers and leaders across the globe."
Rita Springer (Songwriter and Worship Leader)
"This is an imaginative and thoughtful enterprise, led by one of our most committed and wide-thinking worship trainers. Definitely worth participating."
Dr. Jeremy Begbie (Duke University, Theology And The Arts)
"…WorshipTraining is both deep and wide, connecting musicians with the past, present and future. I wholeheartedly endorse their important work and encourage you to check them out."
Paul Baloche (Open The Eyes Of My Heart)

See Why Thousands Have Joined.
The All Access Pass – less than sending one person to one conference.
Thousands of worship leaders are joining because our value to them is high – and our cost is low. WorshipTraining.com is Affordable, Accessible, and many think – Amazing. It's a yearly membership that is less than the cost of sending one person to one conference this year. We know we said that already, many times – but it's important.
No longer will one person be sent to a conference and "wish" their team could be with them. You have our guarantee – the All Access Pass will bring a world of worship training right into your church.
Thanks for taking this screenshot tour. Watch the 30 second video with Learning Director Dan Wilt by clicking above, or click one of the links below.
DOWNLOAD PASTOR'S PACK |Â Â  Â  Â  Â  Â GET A FREE ACCOUNT |Â Â  Â  Â  Â  Â GET THE ALL ACCESS PASS